Share a meal food banner

WELCOME TO YOUR SHARE A MEAL PACK

Here are all the resources
you need this Autumn to host your Share a Meal party in partnership with HOPE.

SHARE A MEAL PACK
Your pack will help you plan the perfect Share a Meal party

PARTY INVITATIONS
Create unique party invitations for your guests.

NAME CARDS
Introduce your guests to each other with personalised name cards.

QUIZ FUN
Get your guests involved with a fun ice-breaker quiz.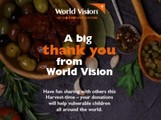 FUNDRAISING LABEL
Attach our fundraising label to a container and help raise vital funds for vulnerable children around the world.
THANK YOU FOR SIGNING-UP TO SHARE A MEAL
We hope you enjoy the fun of planning your party and the time you spend together, in community with others.
We'd love to see photos of your Share a Meal party. You can share them with us on social media @WorldVisionUK and #shareaharvestmeal