Pray for Cambodia
World Vision is committed to partnering with the people of Cambodia to improve their lives today and to help deliver sustainable solutions for the future of their children, families and communities.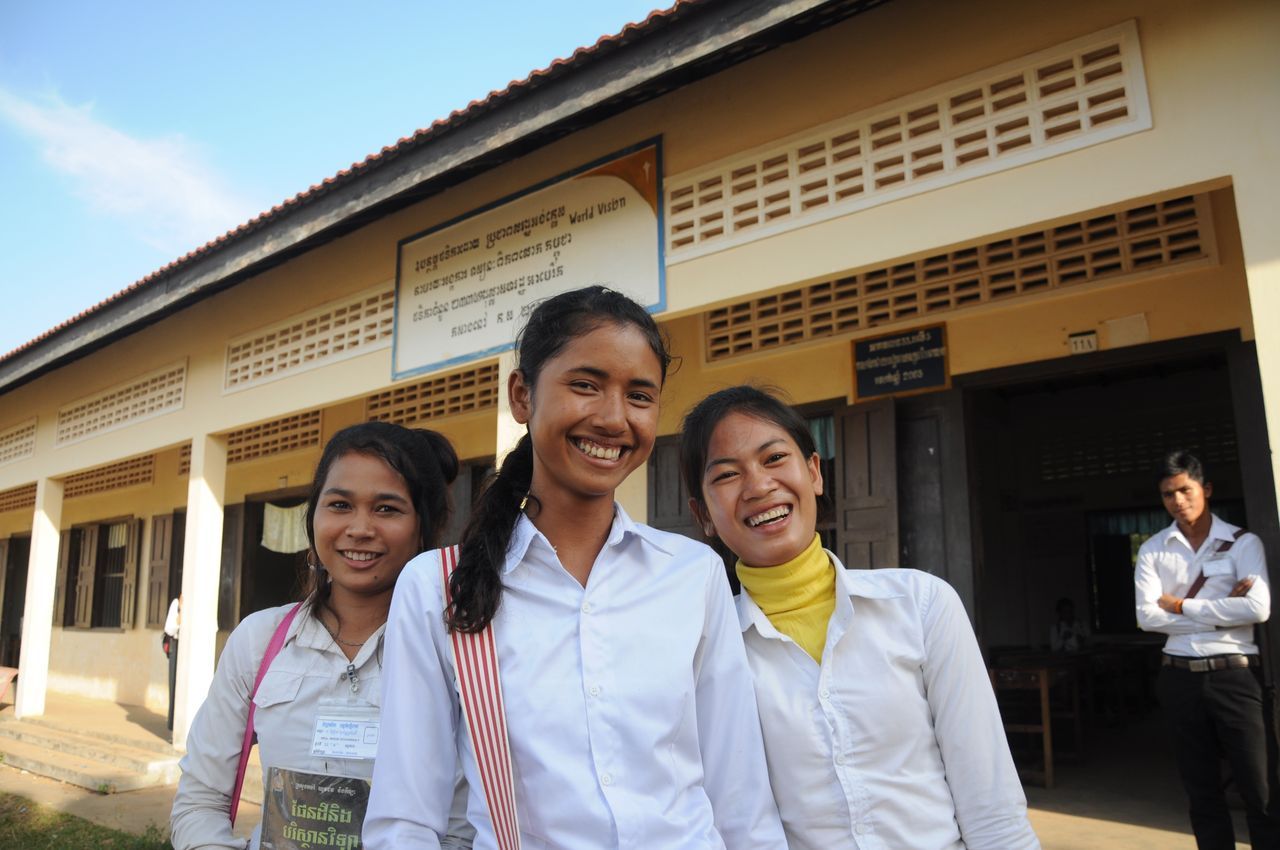 Please pray for our work with the poorest children in Cambodia
Pray for Sithin
Sithin is 13 years old. When he was three, his father passed away. Left with nine children and no source of income, his mum decided to migrate to Thailand to find work. She left Sithin with his eldest brother, who was married and had his own children.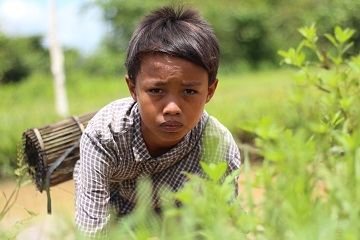 His sister in law remembered, "Sithin was so little back then and he cried so much when his mum and siblings left."
Sithin used to go to school but as he struggled to keep up, he dropped out so he could work and help support the family. "The teachers tried to help me but I could not remember what I learned after the lessons. I feel sad and ashamed when my friends tease me because I am slower than them."
Now, Sithin looks after his neighbour's cows, for which he gets paid very little. During the rainy season, he gets up at one or two in the morning to catch frogs and sells them at the market. He also helps to look after and cook for his nieces and nephews.
Sithin recalls the only time his mother visited, since they left. "One day when I was looking after the cows my friend came to find me in the field and told me that my mum had come to visit me. I was happy and very excited. I ran home leaving my friend to look after the cows. My mother and siblings only came for a short time. Then they left. I was very sad and cried a lot."
He shares, "when I grow up, I want to work in Thailand with my family. I want to be near them and earn money."
We are helping Sithin's family build a latrine, for their home, and encouraged them to join a community money saving group. We are also encouraging them to send Sithin and his nieces and nephews to school.
Please pray that God surrounds Sithin's family with His peace, hope and love. We pray that God would comfort Sithin as he misses his mum and siblings. We pray that Sithin's older brother would come to understand the importance of education and send Sithin and his own children back to school. We give thanks for our supporters who are helping Sithin and his family.


Help Sithin's prayer reach even more people by sharing this page (using the icons below)

Prayers for Koh Krolor
Meth is 11 years old and was seriously injured by a land-mine while herding cows a few months ago. He was taken to the hospital with the support of World Vision. Unfortunately, his right hand was lost and he still cannot see with his left-eye. He hasn't been able to go back to school as a result.
Meth lives with his 3 young sisters and a brother and their parents. They are a poor family. His mother is a daily labourer and his father was a soldier. The father was involved in a traffic accident, which left him injured. Because of they have so little, his family were forced to take out a loan from a wealthy family in the village. They are now in a lot of debt and struggling to pay it off.
Please pray for healing and comfort for Meth and that his eye returns to normal so that he can go back to school soon. Pray that his family's financial status improves.  Also pray for the community, that no one else gets injured in land-mine accidents.

Sreymei is an 8 year old girl and has inflammation of the brain.  She was given medical treatment, with our support. She appeared to recover but since then but she gets angry very quickly and is very forgetful.
Sreymei is in grade 1 and has two brothers and a sister. They are living with their grandmother and are a poor family. Her parents migrated to Thailand in search of work. They visit their children 3 times a year for the major ceremonies in Cambodia. Sreymei really misses her parents. She finds it hard that they are not there to talk to and she also misses their love. She especially misses them when there are events at school in which she is participating and they cannot attend.
Please pray for healing and comfort for Sreymei. May she feel God's love. May she get the support and help she needs to process all she's experienced and help to manage her anger. Pray also that her parents can find work close to home so that they can live with their children again.

Rothana is an 8 month old girl who sufferes from Thalassemia (a blood disorder). She needs to take medication regularly to stay alive.
Rothana is living with her parents and her sister in the poorest conditions. Her parents are daily labourers who do not get regular work.
Please pray for healing for Rothana, that she'll get the medical help she needs and that her parents can find good jobs that can provide them with a good, regular income.

Phally is 49 years old and is a widowed mother of 5 children. They are living in the poorest conditions and Phally does not have a regular  job. She tries to feed her children by doing casual labour on the farms during the season along with her 2 elder children. She is also trying to raise some chickens at her house to help pay for the children's education.
Because of her poor circumstances she has had to borrow money from her neighbour so her children did not miss school. Unfortunately, the storm destroyed her home and everything inside and the children have not been able to go to school since then.
Please pray that this vulnerable family can secure another house and have enough food and other essentials so the children can go back school.

Romdoul is 11 years old and has sight problems with her right eye after an injury. She is living with her grandmother for the last three months. We thank God that her sight has improved and ask for continuing prayers for an improvement in her living conditions.

Mr. Em is the father of 12 children who are living in very poor conditions. The family's living conditions have now improved as they have started home gardening and are making wood charcoal. Four of the children are also now attending school every day. We thank God for Mr Em's blessing.

Much is 13 years old and is living in poor conditions with her sick, widowed mother, grandmother and siblings in a small cottage with only one bed. She often misses school because she helps the family by earning money working on a farm. This was affecting to her studies. We are happy to say that World Vision has now provided the family with an opportunity to do chicken farming which has improved the family's economic situation and their living conditions.

We thank God for our child sponsors and other donors who partner with us to support and care for children and their families. We ask God to bless them and we thank them for changing fear into hope.


Help these prayers reach even more people by sharing this page (using the icons below)

Prayers for Sot Nikum
Then is 14 year old and has two younger brothers, Thin, 11, and  Thep, 8. A few years ago, their parents divorced. Their mum re-married and migrated to Thailand with her new husband. Their father struggles with alcoholism. He also migrated to another area to find work. He rarely comes back home, leaving Then, Thin and Thep living along.
Then works hard to support and provide for his brothers. Sometimes he misses school because he needs to work. One of his younger brothers has already dropped out school for one year.
Please pray that God will surround Then and his siblings with his everlasting love and protection and provide for them. Pray for their father to give up alcohol and come back home to take care his children, so Then and his brothers can go back to school. Also pray that their mother does her part and looks after the children too.

Net is a 10-year old girl who is living with her 83-year great-grandmother because her mother has migrated to Thailand. Net has two step brothers who are also living with her and her great-grandmother and 58-year-old grandfather.
Net doesn't attended school because her great grandmother is very old and is unable to earn enough money to send her to school. Her grandfather does some seasonal farm work to earn a living, but he's not able to earn very much.
Please pray for Net, that her living conditions improve and that her mother returns from Thailand to take care of and support the family. Pray that Net's great grandparents and grandfather are able to provide enough food for the family and keep her safe from abuse. Pray also that she can go to school.

We thank God for Pisey's improved health. She lost her mother when she was a small baby. Now, she is healthier and well nourish after she joined SKL (our child health program that finds and monitors children who are suffering from malnutrition. We work with the family to help improve their children's health).
Pisey is well taken care of by her aunt. Fortunately for Pisey, her aunt married a good man. The aunt and her husband have accepted the responsibility to raise Pisey and her sibling. Their living conditions have also improved. We give praise to the Lord that Pisey is now safe, loved and healthy.

We thank God for our child sponsors and other donors who partner with us to support and care for children and their families. We ask God to bless them and we thank them for changing fear into hope.


Help these prayers reach even more people by sharing this page (using the icons below)