Education
With better health, children don't miss school. And as schools are more aware of girls' menstrual hygiene needs – they can attend every day.

Livelihoods
Better farming practices don't just bring in more money – they give children a healthier and more varied diet. Plus, with better income, families can afford healthcare.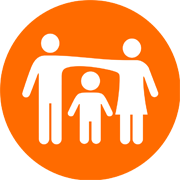 Protection
When communities understand the health effects of practices like child marriage and FGM, children can be kept safe.
What's the impact of child sponsorship on the child's life?
The gift of child sponsorship completely transforms the life of children around the world. You could send a child to school, give them regular, nutritious meals, provide access to clean water, and crucially keep them happy, healthy, and safe. The impact of child sponsorship is truly incredible, watch what happened when we caught up with a former sponsored child, Nancy.
How will child sponsorship impact your life?
Sponsorship changes two lives - the child's and yours. Building a close relationship with a child and community will show you the incredible difference that your generous actions can make. You'll see this through letters, photos, and annual progress reports. Watch this video to see how choosing to sponsor a child impacted Amanda and her family.
What about the community?
Although we're a child sponsorship charity, we don't just help individual children. We work with communities in need to determine how we can help them to help themselves. We look for the root causes of poverty and address these face on. Our sponsorship model builds sustainable change and growth in the community that will keep transforming lives after we leave.
Meet some of the children our sponsors are helping
There are hundreds of thousands of reasons around the world to choose child sponsorship - meet just four of them in the videos below.
Boubacar

Meet Boubacar, his parents, and his community. This community and the lives of everyone in it has been transformed since we began our work with them. Malnutrition and diarrhoea have almost been eradicated and nearly every child is in school.
Kamama

In 5-year-old Kamama's community girls used to have to walk three hours for water, meaning they would miss out on school. See how far Kamama travels for clean water since World Vision joined her community.
Maria

When the Ebola virus swept through Sierra Leone 9-year-old Maria lost her parents and her brother, then both of her sisters were taken to an orphanage - leaving her all alone. The child sponsorship programme has provided her with a home visitor who supports Maria, helping her cope with her loss and going back to school.
Mina

Because of her family's poverty, 12-year-old Mina is forced to work, breaking up bricks from morning until evening each day. With the help of child sponsorship, she now attends school for a few hours each day, and dreams of becoming a police officer.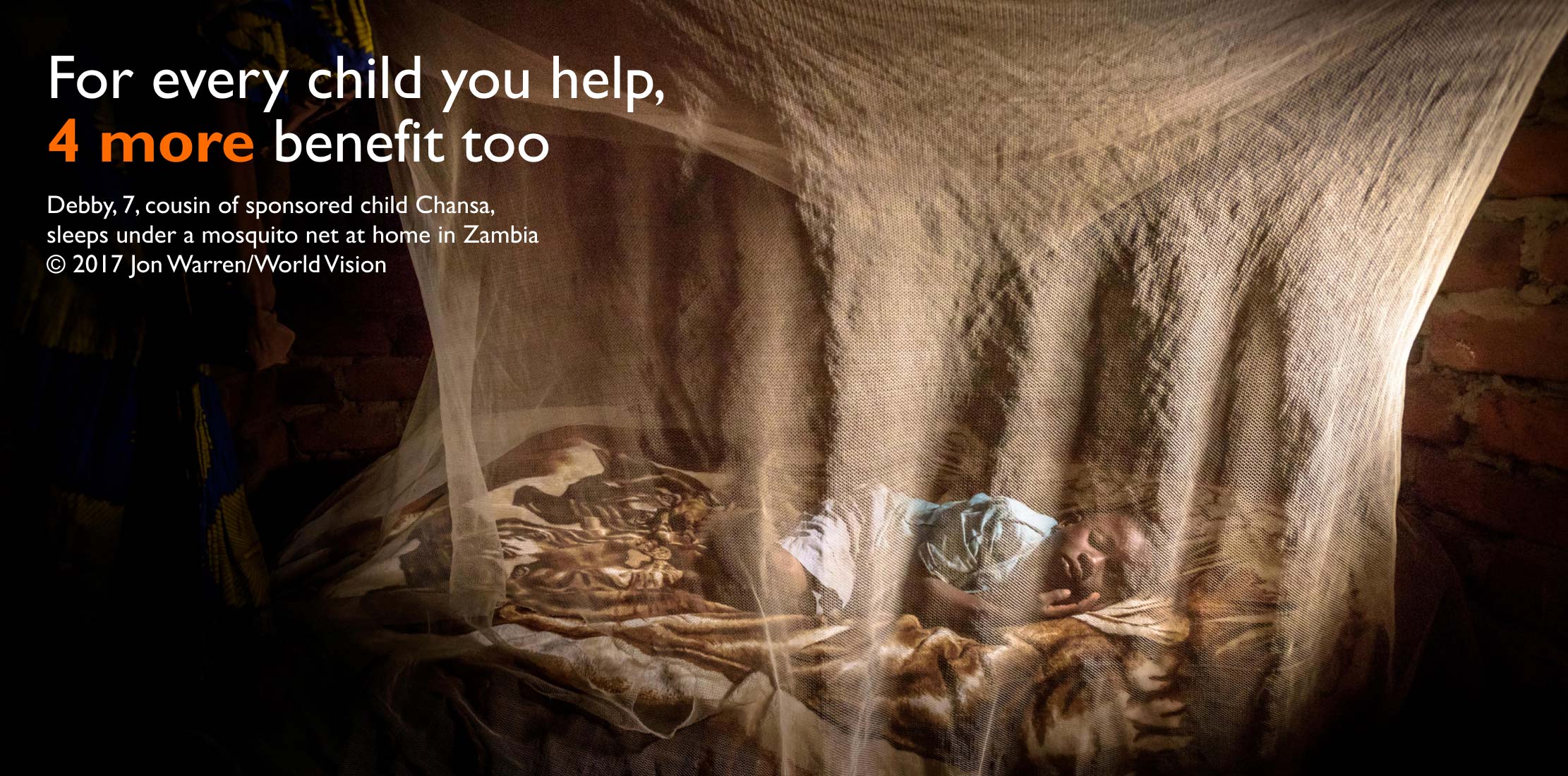 Meet two of our sponsors whose lives have been transformed
Shemi
Shemi has been sponsoring with us for 14 years. She first sponsored a little girl when her son was young, and later sponsored a young boy too. Shemi's favourite memory of sponsorship was seeing a photo of Racheal wearing sandals she'd received thanks to her, and reading her comments about the joy of not having to walk to school barefoot.
Amanda Redman
Ambassador Amanda Redman has been sponsoring with World Vision since 1997, when she visited with her young daughter Emily. There they met a young girl called Diaw. Emily and Diaw immediately became inseparable, and continued to exchange letters long after they met. Amanda has found her sponsorship experience so moving that she convinced her whole street to sponsor.
How does child sponsorship work?
When you sponsor a child with World Vision, you're supporting the entire community. We find the source of poverty and vulnerability and address the root issues, give the community the tools to escape poverty in a sustainable way. Watch our short video to see how our unique sponsorship model ensures that your sponsorship transforms the life of children and the entire community around them.
How can I be sure my money gets to those who need it most?
World Vision only work within countries where we have our own offices; this way, we ensure that we can fully account for all the money that we receive. We have audited accounts that are publicly available at any time.

As a charity, we are regulated by the Charities Commission - a legal body which oversees all UK charities and their activities. We are a not-for-profit organisation and we know that the continued support we receive is dependent on our efficient use of supporters' money. Our Annual Report is available to anyone who requests it.
How does sponsorship help children?
Millions of children around the world need help to break the never-ending cycle of poverty. Hunger weakens them. Unsafe drinking water makes them sick. Missing out on an education can stop them from reaching their potential. As a sponsor, you will help provide a child with sustainable access to life-changing basics like nutritious food, clean water, healthcare and education.

How? We work with a community, establishing together what work is required, and setting realistic goals for what can be achieved. If something's not working, we'll review it and change it. Whether it's training people in how to set up their own small business, drilling a bore hole or developing irrigation systems with farmers to produce a greater yield - we create sustainable change so that communities are equipped to give their children the best start in life.
How is my donation used?
The donation you give doesn't go directly to your sponsored child or family. That's because experience has taught us it's more effective to use the money on projects that will benefit your sponsored child's community as a whole, at the same time improving the well being of the child you sponsor. For example, in order to ensure we can provide your sponsored child with clean drinking water, we need to build access to clean water for the entire community. This means that when you sponsor a child, the impact of your generosity touches an entire community.
Will I get to know my sponsored child?
You'll be given the opportunity to find out how your child is doing alongside regular news from their community that will help you build a relationship that could change both your lives. "I like receiving letters because it helps me to know the world of my sponsor, what she likes and it shows the love between us. It also helps me in school with my writing and reading." says Phabian, 10 from Kenya.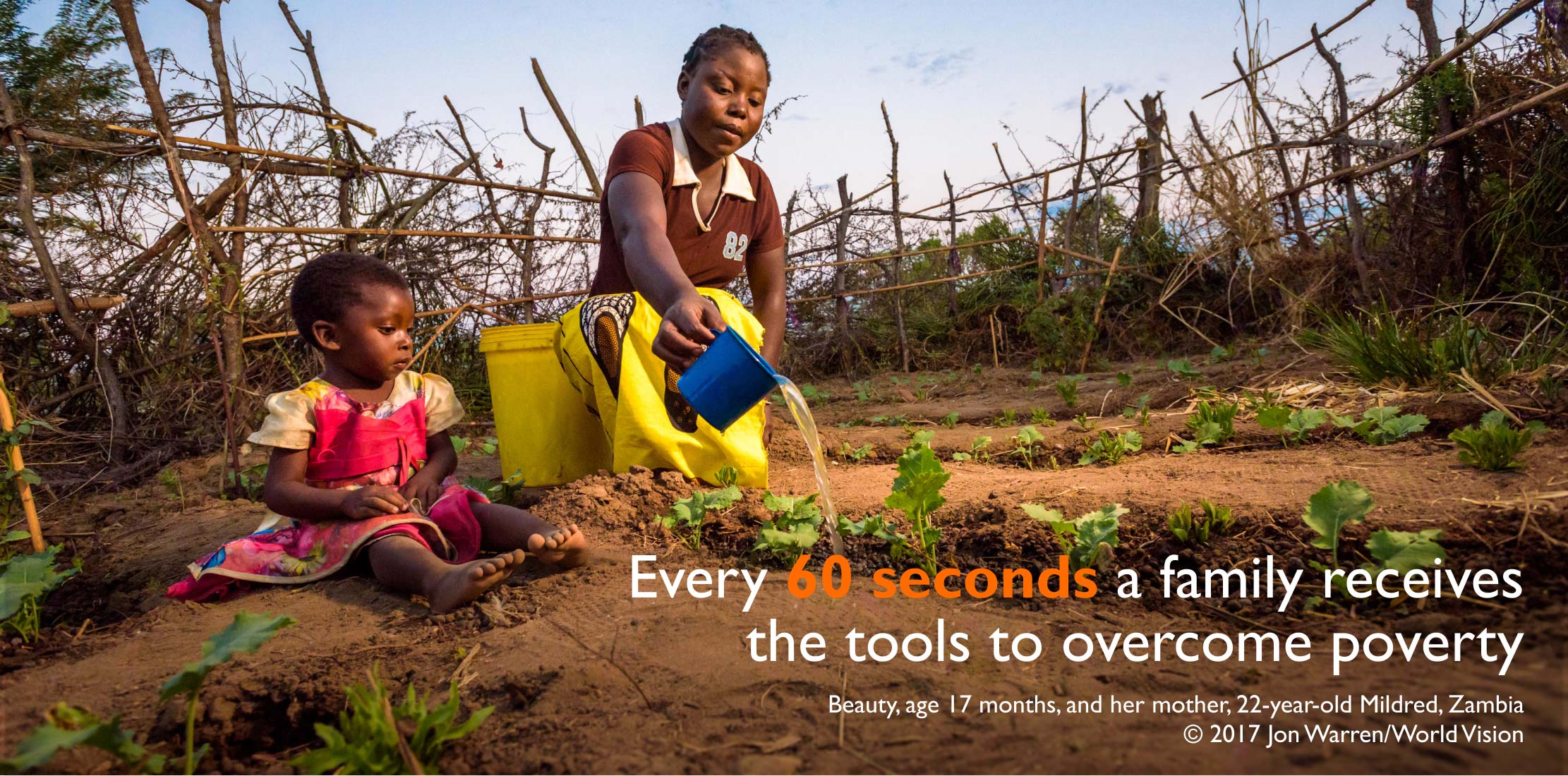 How do you select the children who are sponsored?
It's the community members themselves who decide which children will become sponsored and represent their community. However, sponsorship brings much needed change to more than just the children who are sponsored — the benefits extend to each child's family, their community and other children in need. Because of the way we work with communities, for every child you help, four more children benefit too.
How do you work with children?
In all our work, World Vision listens to and engages with children to make sure that everything we do addresses the specific challenges they face. As well as making sure that our work is as beneficial as possible, working with children in this way also builds their confidence and helps with their development as they learn to speak out and play an active role in shaping the future of their community.
How long will my sponsorship last?
Children can generally be sponsored up to the age of 18 (or 21 if they're still in education or training). However, this depends on the project and child's circumstances. Depending on the age of the child, many people sponsor the same child for over ten years, until they reach adulthood or leave school, which can be at different ages depending on where they live. But it also depends on how long we've already been working in the community when you start sponsoring – if we've already been there a while, your sponsorship of that child might not be as long.

Once your child's community can stand on its own feet and we're ready to move on, or if your sponsored child leaves the sponsorship programme for any reason, we'll let you know and we'll give you the opportunity to sponsor another child.
How long do you work in a community, what happens when you leave?
We work in communities for around fifteen years – sometimes even longer. During this time we're able to transform the lives of your sponsored child and other vulnerable children. With clean water, healthcare, food and an education, children become healthier and happier, with greater hope for the future. And their communities become better able to cope with whatever challenges come their way after we leave. When we leave a community, we invite sponsors to sponsor another vulnerable child. 
If I stop sponsoring, what happens to the child?
Because of our community-focused solutions, there will be no impact on the individual child if you choose to end your sponsorship. We remain working in and with that community for 10-15 years until our work is finished - so the child you previously sponsored will still see all the benefits of our work in the form of clean water, nutritious food, an education, protection, and more.

This means that if you can't continue sponsoring for whatever reason, you can rest assured that the child you've formed a connection with will continue seeing the benefits of our work and support.
Why should I choose World Vision?
We have over 60 years of experience of changing children's lives by working with the communities where they live. Children are often the first to feel the impact of poverty, and because we're community-based, our development experts can work with the whole community to address their priorities for improving the lives of their children.

Building a better community for children takes time. Our work within a community usually stretches over 10-15 years. The impact of child-focused community development is ongoing and along the way you'll see as children's health improves, communities become more resilient and families gain hope for their children.